Forum: VirtualDJ Plugins


Questions about plugins development, talks with other developers etc
Sujet MY LIBRARY - The essential database tool for VirtualDJ 8 - Page: 10

create a filter folder with these parameters

isscanned = 0 or isscanned = 1 and exists = 1

scope = database


---
Posté Sun 07 Aug 16 @ 11:14 pm

wickedmix wrote :

create a filter folder with these parameters

isscanned = 0 or isscanned = 1 and exists = 1

scope = database





hmm, how do i do that? I found the create filter folder on the left, but It only creates a empy folder. a little more details please? :)
---
Posté Sun 07 Aug 16 @ 11:27 pm

I tried loading this plug in and I followed the directions but the MY Library folder will not show up in Virtual dj...please help!

---
Posté Sat 17 Sep 16 @ 4:06 pm

I don't no if Norman can help us
Can we have frequence in Hz to detect the poor quality ?
beacause the bitrate some time is not real, or not the best way to see that
exemple: if we have an uncompressed mp3 (by mistake or watever)
like 128kb uncompressed to 320kb
this is a real problem! and really bad sound!

---
Posté Tue 18 Oct 16 @ 2:47 am

it says i don't have access to download this.
---
Posté Sat 22 Oct 16 @ 12:34 am

I think it's been moved since the original link (at the start of this thread) was posted.

You should be able to find it via the download / addons link at the top of the site page.
---
Posté Sat 22 Oct 16 @ 7:44 am

Can a filter folder be made to auto generate Decades? ie 1950s, 1960s, 1970s, ect. Thank you for a great add on.
---
Posté Sat 19 Aug 17 @ 12:55 am

Yes. You can do something like this: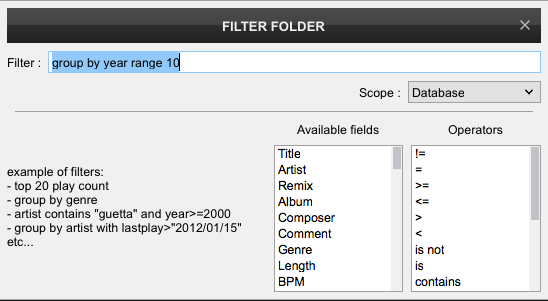 ---
Posté Sat 19 Aug 17 @ 10:32 am

good plugin, thank you))
---
Posté Sun 03 Dec 17 @ 2:15 pm

Rune (dj-in-norway) wrote :

Good good ;)



it did not work on my mac
---
Posté Thu 04 Oct 18 @ 4:20 am