VDJPedia
How do I change the mapping for a button
How to create a custom mapping in VirtualDJ 8
Go to SETTINGS CONTROLLERS tab


Choose the device that you wish to customize from the top-left side. If no other custom mapping is created, the "factory default" will be pre-selected in the Mappings drop-down list. Make sure the device is not set to Ignore






Select the Key that you wish to modify its action with any of the following ways :


Press a button or move a knob/slider on your controller. Each time you press a button or move a knob/slider, VirtualDJ will display the name for that key at the top of the Key Learn area. Click on the Key name to select the one you wish to map.


Alternatively, locate the Key from the list, in case you know its name or the Key cannot be detected from the Key Learn (e.g. for a LED).

Type an appropriate action in the Action: box, e.g: auto_crossfade. VirtualDJ will auto-fill with one of the available actions as you type.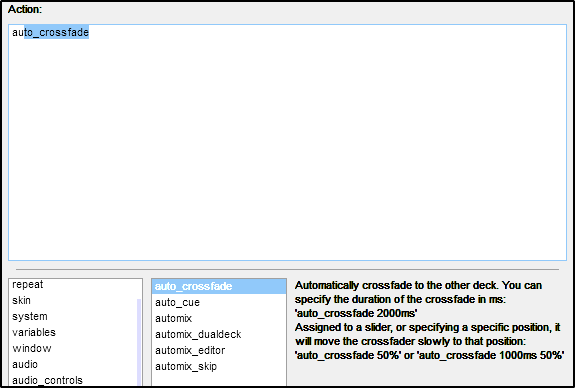 Repeat the last 2 steps for all the Keys of your controller that you wish to customize.


Once the custom mapping is completed (you can still edit the same mapping later of course), you can provide a name (optional) and save.



Multiple custom mapping files can be created for the same unit, but only one can be applied/used from the Mappings field.

Notes :
Custom mapping files can be deleted (using the x button), but not the factory default one. So, even if you have messed up with your custom one, you can always go back to the factory default and create a brand new custom one.

Custom mapping files are automatically saved (without using the Save Disc button) in /Documents/VirtualDJ/Mappers folder
---

For further information, please see:
FAQ VDJscript
FAQ VDJscript Verbs
FAQ VDJScript Examples



---
FAQ
Knowledge Database
Wiki HOME