Forum: VirtualDJ Plugins


Questions about plugins development, talks with other developers etc
Sujet SBDJ TweetList - Page: 7
Cette partie de ce topic est ancien et peut contenir des informations obselètes ou incorrectes

Yay! Thank you!! I will be using this tomorrow, and at a wedding I am DJing at in June. (I dont normally do weddings, but this is perfect for that!)
---
Posté Sun 05 May 13 @ 10:29 am

Hi scott found an bug

1.2

it has an unicode Problem if i play an song with german double s ->ß

SBDJ Tweet says that message is sent but it does not work


greetz from bavaria

lucky

---
Posté Fri 10 May 13 @ 8:10 pm

I'll have a look, probably a string encoding issue somewhere.
---
Posté Fri 10 May 13 @ 8:15 pm

keep me posted

if you have an beta..if i found no bugs there are none...

all programmers hate me ..they call me the "issuemaster"...no idea why :-)
---
Posté Fri 10 May 13 @ 8:18 pm

Maybe a Mac version in the near future??
---
Posté Sun 09 Jun 13 @ 7:53 pm

Maybe :)
---
Posté Wed 12 Jun 13 @ 11:17 am

That's good news, fingers crossed it's soon, lol!!

I do have a question though, does your plugin use the twitter RSS cause apparently it has been shut down or changed. Right now I use a twitter quart composition in Resolume and it quit working. Well on another site they said it has to do with the RSS whatever that is, lol!
---
Posté Wed 12 Jun 13 @ 7:04 pm

Twitter have disabled the v1.0 REST API that was used by most people, myself included.

This plugin was already using OAuth and XML, so updating to v1.1 wasn't difficult. To that end I have released v1.3 of TweetList which uses v1.1 Twitter API with OAuth/JSON.
---
Posté Sat 15 Jun 13 @ 6:51 am

Hi Scott, I installed the latest 1.3 today (my first time trying this). I went through the authorization and filled out my Log in details. It all works and posts make it to my page, but I get this error every time it posts: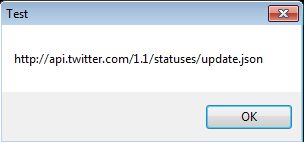 Any ideas? There is another window after this too that just says "Done" also.
---
Posté Sat 15 Jun 13 @ 1:09 pm

Whoops. I left debug code in place!
---
Posté Sat 15 Jun 13 @ 3:39 pm

:) That explains why it works and does that!
---
Posté Sat 15 Jun 13 @ 3:40 pm

Hey tried the 1.3

seems to be everything ok, but can not tweet anything not manual
not current
not auto

checked login data twice, tried 3 times to register the app...nothing

btw.. i did not get the window as DHoude posted..
---
Posté Sat 15 Jun 13 @ 7:19 pm

Just uploaded v1.31 with that debug code removed - sorry for the delay, just got in from a gig.

Not sure what would be causing your issue with it not posting; maybe I'll build a version with an optional debug log to assist troubleshooting.
---
Posté Sat 15 Jun 13 @ 10:00 pm

Works great now, man your are the king of plugins! Thanks again for all your hard work!
---
Posté Sat 15 Jun 13 @ 10:38 pm

OK wher is the "register App button"? Any way you could make a short video showing how to do it?
---
Posté Mon 21 Oct 13 @ 2:47 pm

Where ?
---
Posté Tue 22 Oct 13 @ 10:32 pm

SBDJ wrote :

PC version very very soon. Mac version shouldn't be far behind.



2014 mac version well needed
---
Posté Sun 12 Jan 14 @ 7:03 am

SBDJ wrote :

Twitter have disabled the v1.0 REST API that was used by most people, myself included.

This plugin was already using OAuth and XML, so updating to v1.1 wasn't difficult. To that end I have released v1.3 of TweetList which uses v1.1 Twitter API with OAuth/JSON.



Hi Scott,

Just downloaded this plugin, got 1.31, i'm unable to register, Chrome shows not output. IE shows a Forbidden page.
Had a look back through the forum pages but nothing shows how to register now you applied the changes.

Thanks

:)

---
Posté Mon 20 Jan 14 @ 7:17 pm

MBProductionz wrote :

SBDJ wrote :

Twitter have disabled the v1.0 REST API that was used by most people, myself included.

This plugin was already using OAuth and XML, so updating to v1.1 wasn't difficult. To that end I have released v1.3 of TweetList which uses v1.1 Twitter API with OAuth/JSON.

Hi Scott,

Just downloaded this plugin, got 1.31, i'm unable to register, Chrome shows not output. IE shows a Forbidden page.

Had a look back through the forum pages but nothing shows how to register now you applied the changes.

Thanks

:)



Anyone with any info on this?

Please
---
Posté Tue 28 Jan 14 @ 9:17 am

I had no problem last time I tried it, I will check it again :)
---
Posté Tue 28 Jan 14 @ 2:12 pm