Forum: Addons


Addons comments
Sujet Korg Kaoss Pad KP3 mapper

My suggestion would be to assign the sampler buttons as sampler_pad x instead of play_stop. This way the buttons will act according to the selected Sampler Mode.
---
Posté Fri 03 Apr 15 @ 4:02 pm

OK sampler_pad 1 to 8 modified in v1.1, thanks for suggestion djdad ;)

To use this mapper copy the files Korg Kaoss Pad KP3 definition.xml & Korg Kaoss Pad KP3 mapping.xml into Documents\VirtualDJ\Devices
load the file KP3 Editor VDJ8.kpg with the Korg KP3 Editor and transmit it to the KP3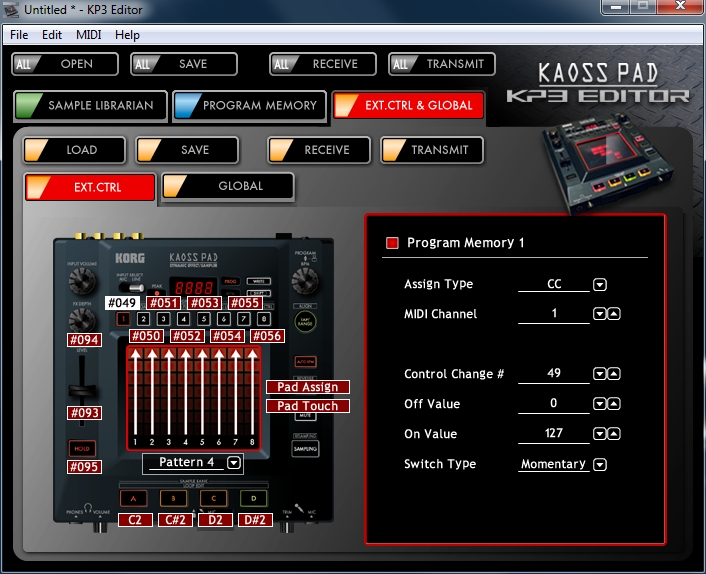 If you want to have effects in sync enable the Midi Clock Output like in this picture:



---
Posté Fri 03 Apr 15 @ 7:00 pm

Sweat!! I have both the Korg Kaossilator Pro+ and the KP3. Right now I am veeeery happy :)

---
Posté Tue 07 Apr 15 @ 2:53 am

In addition to the instructions above, I add also the description of the mapper, thought to drive the first 8 samples of VDJ8.

FX_DEPTH -> nothing (free to be mapped)
FX_RELEASE_LEVEL -> sampler_volume_master
HOLD -> show_splitpanel 'Sideview' & sideview 'sampler'
1 -> sampler_pad 1
2 -> sampler_pad 2
3 -> sampler_pad 3
4 -> sampler_pad 4
5 -> sampler_pad 5
6 -> sampler_pad 6
7 -> sampler_pad 7
8 -> sampler_pad 8
A -> sampler_bank 1
B -> sampler_bank 2
C -> sampler_bank 3
D -> sampler_bank 4
TOUCH -> nothing (free to be mapped, this command is activated by pushing the touch area at any point)
TOUCH_PAD1 -> sampler_volume_nogroup 1
TOUCH_PAD2 -> sampler_volume_nogroup 2
TOUCH_PAD3 -> sampler_volume_nogroup 3
TOUCH_PAD4 -> sampler_volume_nogroup 4
TOUCH_PAD5 -> sampler_volume_nogroup 5
TOUCH_PAD6 -> sampler_volume_nogroup 6
TOUCH_PAD7 -> sampler_volume_nogroup 7
TOUCH_PAD8 -> sampler_volume_nogroup 8

To use the KP3 with VDJ 8 just plug the USB in the back of the unit to the computer, MIDI-USB interface is not necessary, and remember to load the file KP3 Editor VDJ8.kpg (it's inside the .ZIP) with the Korg KP3 Editor and transmit it to the KP3
---
Posté Wed 08 Apr 15 @ 4:40 am

Too bad! I have the KP3+ and not the KP3...
I tried to change the file from .KPG to .KPA as requetsed by KP3+ editor, then I get an error message "File does not contain enough data"
Do you think you can advice?

EDIT: Was trying to open the file in the wrong location of the program. Now it seems to open properly :)

I can see the KP3+ in the mapping, but it says: KP3+ 1 PAD (custom mapping) instead of in your example "Korg Kaoss Pad KP3"
Do I need to rename the definition files to match KP3+ ?


---
Posté Wed 08 Apr 15 @ 3:09 pm

I was considering getting this Korg sampler. I have one of the original ones when it first came out and loved the thing even got one go the Numark mixers for the club that had the Korg in it. would like to know if you are still using this or if others are and you are happy with it.
---
Posté Mon 11 Jan 16 @ 12:03 am

I am! It's not "just a sampler" but an effects-unit. So far I haven't been using Cioce's mapping (just found out it existed). The only problem I discovered so far is that the output is not as "hot" as it should be, but because I am mostly connected to a PA-mixer, it is solvable. You might encounter problems if you have to connect it directly to an amplifier. (FYI: I'm using a Denon MC-6000, and I've connected the output straight to the input of the KP3 to be able to use the full potential of the KP3 on all decks. This means the KP3 is directing the output-level)
---
Posté Fri 15 Jan 16 @ 6:51 pm

@ coolmixes
I think this Fx unit have sense if you have a mixer with send/return, like mine Vestax PMC-05ProIV.
---
Posté Thu 28 Jan 16 @ 8:31 am

Hello, somebody have a demo or video ? a have a denon mc 3000 and Windows 7 64
I want to buy a Kp3 for use whith VDJ and a want to know the possibilities...
Thanks
---
Posté Thu 13 Oct 16 @ 7:45 am

Hello, somebody have a demo or video ? a have a denon mc 3000 and Windows 7 64
I want to buy a Kp3 for use whith VDJ and a want to know the possibilities...
Thanks


PUSH
I would be interested too
---
Posté Wed 10 Jan 18 @ 11:12 pm