Forum: General Discussion


Discussions about VirtualDJ, and about DJing in general

---
Forum Guidelines
If you need extended support, contact our Support Team.
(*) The moderators hold the rights to move or modify posts in order to keep the discussions clear or to facilitate the search.
Sujet Arturia BeatStep Pro in Virtual DJ 8

I've been doing a little forum searching and so far I haven't found any definitive answers regarding the Beatstep Pro inside VirtualDJ.

According to the Arturia website the advertisement says:
The Arturia BeatStep Pro has Sync mode:
Select the Beatstep pro internal clock or slave to a DAW, external MIDI clock, or analog/DIN sync.
So I guess it has an internal clock or it can accept from an external clock.


2 questions:



From here it looks like the latest version of VirtualDJ can send midi master out. Is anyone using it to hook up to a drum or other sequencer like the Arturia Beatstep Pro? (I like the fact it's small and half the price of the Roland TR-8)
MIDI CLOCK OUTPUT: VirtualDJ's Master Tempo can be sent to other applications such as Lighting or Digital Audio Workstations that accept a Midi Clock Input. Right-click any connected controller in the device window to assign it as the Midi Clock Output.

Can I then send the output out from my beatstep pro back to my VDJ usb external controller which also has a composite input or it that a no no?

---
Posté Wed 15 Mar 17 @ 2:21 am

nassausky wrote :

..
Select the Beatstep pro internal clock or slave to a DAW, external MIDI clock, or analog/DIN sync.



You will need to select the external MIDI clock i suppose. Do you know how to do this ? Any information in the manual ?
Some units require a Sysex to be sent, some others offer this with a Key combination from the Hardware or even from some Utility.


---
Posté Wed 15 Mar 17 @ 3:28 am

I am about to purchase the unit and wanted to see if my hunch is correct that it will work correctly in Virtual DJ. The online manual says this:
The KEYSTEP can be synced with 4 different clock modes:

INTERNAL
USB
MIDI
SYNC IN

More curious on output and if plugging it back into the same controller that gets plugged into the same laptop that will also have the beatstep pro plugged into. Wondering about any kind of feedback issues, humming or anything.
---
Posté Wed 15 Mar 17 @ 12:21 pm

What controller are you talking about?

The Beatstep Pro won't be "inside" VDJ. It's hardware.

[edit] the Beatstep Pro doesn't appear to have any audio outputs. It's purely a sequencer. How do you plan to use it with VDJ?

---
Posté Wed 15 Mar 17 @ 10:21 pm

I would connect the drum machine to the Denon MCX8000.
Very good observation, I can't believe it doesn't have analog out. Grrrr. My last option might be the Roland TR8 but it's a bit bigger. So if I hook up the TR8 to accept the clock from VDJ usb do you think the analog mix out of the TR8 will sound ok plugged back into the analog in of a channel to the MCX8000?
---
Posté Thu 16 Mar 17 @ 12:11 am

Yes the Beatstep is quite unusual, because you don't often see just sequencers (with no onboard sound) these days. It makes me wonder how many people have bought it, then discovered they need additional kit.

Have you considered a Novation Circuit?

I think it will be OK to plug the audio output of the device (whichever you choose) into the MCX.


---
Posté Thu 16 Mar 17 @ 6:03 pm

I'm doing some research. It's closer to the Roland JDXi which will allow me to have the sequencer built into a piano.
Seems like the jxi has analog out
Master Volume: Adjusts the volume that is output from the OUTPUT jacks and PHONES jack

and clock input:
The JD-Xi can transmit and receive MIDI clock (F8) messages to
synchronize its tempo. It can also send and receive MIDI start (FA) and
MIDI stop (FC) messages to start or stop.

It doesn't say if this clock signal can be received through the usb cable but might have to contact roland for that.





The Novation Circuit and TR8 would make it more difficult to use live key tone playing since they're missing the looks of a chromatic scale thus harder to find the right note. Some real cool features through the microphone input. Check this out "Auto Note button and notes will be generated by microphone input with no need to touch the keyboard. ".

Wonder what that will sound like if I can maybe carefully pipe the controllers audio out back into the jdxi which can process the audio with some cool effects.


---
Posté Thu 16 Mar 17 @ 7:53 pm

VDJ Support hasn't been announced yet but the Roland DJ-808 might be the all in one solution for you.
---
Posté Fri 17 Mar 17 @ 7:01 pm

Thanks but Just bought the denon mcx8000 because it's built in offline mode . I really like this mini piano keyboard sequencer/drum machine. JDxi. It was a tough decision between the 808 and denon 8000
---
Posté Fri 17 Mar 17 @ 8:54 pm

Luckily, it was easier for me... I have the MK1 - CDJ2000NXS so that offline/standalone and the screens features of the 8000 didn't even click on me.
I thought I will stick with all I've got for a while but the 808 broke the spell, lol!
---
Posté Fri 17 Mar 17 @ 10:29 pm

It was a hard decision. The little red guy popped up on my shoulder and was saying scr*w the guests if my system crashes I want the roland 808 it will be more fun.. Then a baby angel appeared in a diaper ha and said don't do it, you got no luck of the irish, you'll crash... Then the sucker in me had to listen to the angel.. uh boy
---
Posté Fri 17 Mar 17 @ 11:50 pm

When it comes to buying gear... that red one wins to me most of the time, LOL!
The DJ-808 started the fun but the fun didn't stop there... I was forced (got tempted) to get and test all the other AIRA product line too which means more $$$$ going out.
But that's where I enjoy my life as a DJ... getting all the gear that I want and use them on my club/mobile gigs.

Oh... and the case became a problem to me too... but resolved after couple of days thinking how to do it.

So, I will have this set up 1 when using a DJ Software (TR-8 not really needed if using the 808)...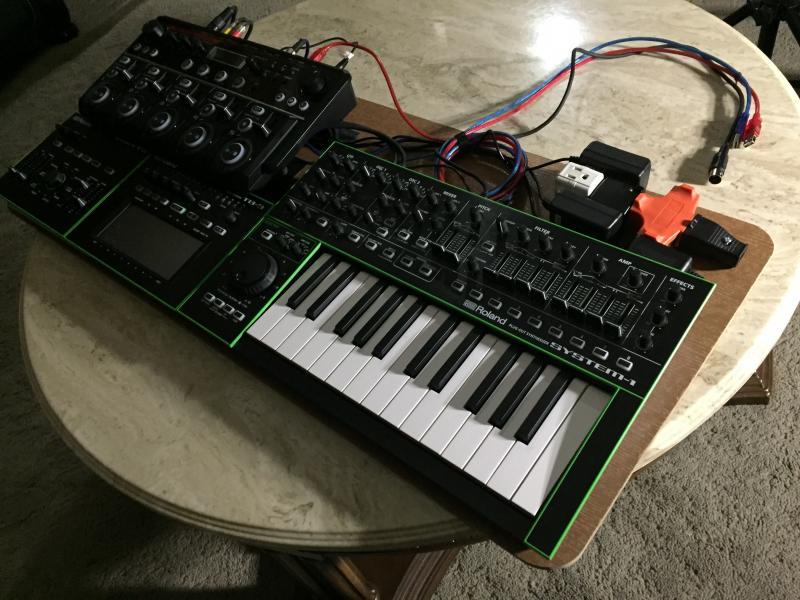 And this one is for straight live performance...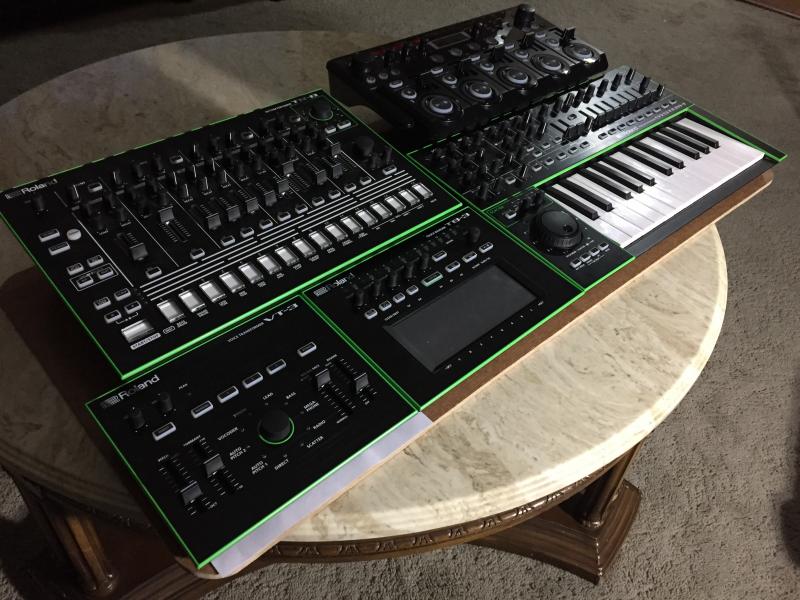 The boards are now painted black and cables all tucked-in nicely, but here's where I started the concept...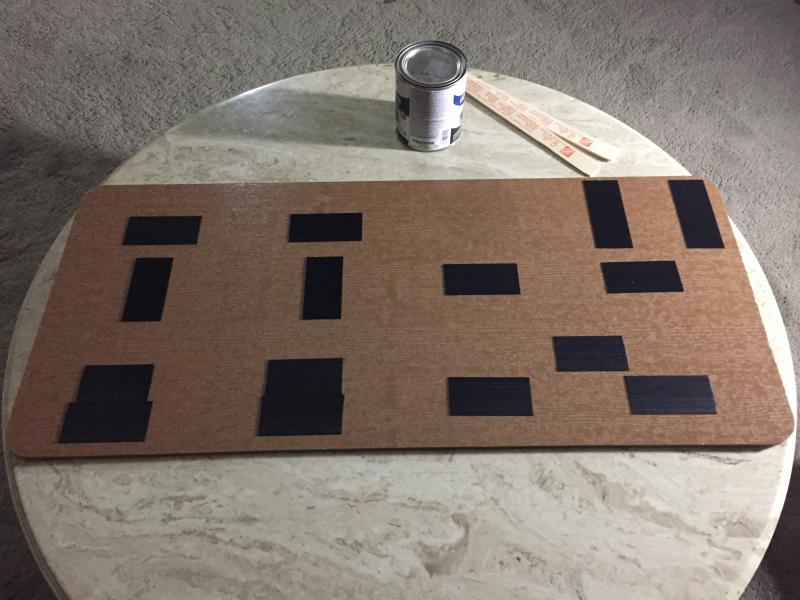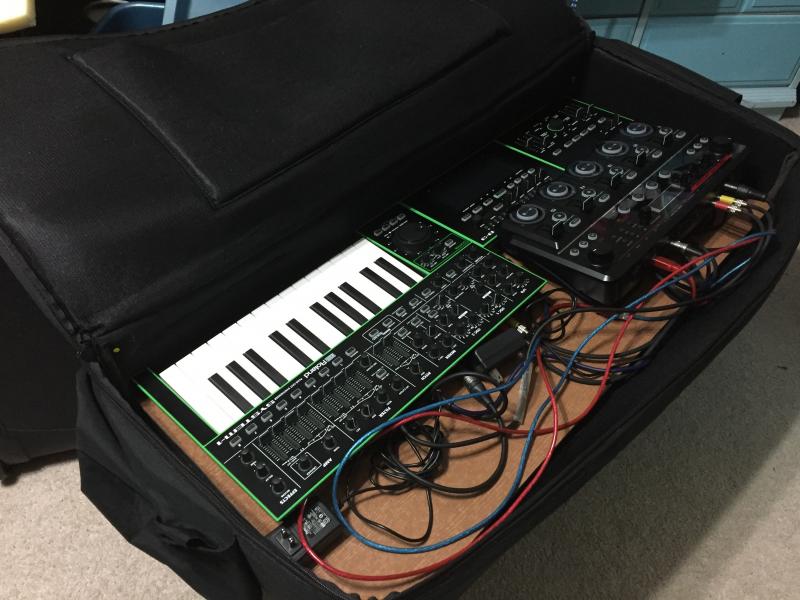 I will be along side with the red-guy to suggest, "Sell you 8000 and get the 808." LOL!!!
---
Posté Mon 20 Mar 17 @ 6:46 pm

Hopefully the VDJ Support for the 808 will be announced soon!
---
Posté Mon 20 Mar 17 @ 6:55 pm

OMG there is not a time yet that I'm not thinking about trading... Top bet on the board is within 6 months... hahaha. If roland releases one called the 808+ (having stand alone operation) .. I'm going out tomorrow to get it :)

BTW what's that brown board you're velcro is attached to called? It's a nice idea to board it together.. I'm continually trying to figure out ways to make my mobile setup easier to transport and setup/breakdown
---
Posté Mon 20 Mar 17 @ 10:17 pm

That "standalone" fearure is simply an Ipad and an RCA to headphone cable that can be hooked up on almost any controller/mixer.

On mobile, that to me is a separate laptop with a cloned external hard-drive. Something good to have, but better not to be used.

BTW, The board is just a leftover 1/4" finishing plywood. The soft keyboard case is actually for my CDJs so I have to buy second one.

I might put the CDJs on a board too eventually.



---
Posté Tue 21 Mar 17 @ 2:02 pm

Yeah it was using my other laptop as a backup but now I can leave that packed up in case my main laptop dies in the party. Will use the MCX8000 in quick down situation then take my time setting up laptop.
---
Posté Tue 21 Mar 17 @ 9:53 pm

Well it looks like you can't give up your 8000. So TR-8 or something similar will be your best bet.

Goodluck!

And BTW...
When I don't want Interruption on my mixing, I let my roadies/2nd DJs take the requests on the other laptop.



---
Posté Tue 21 Mar 17 @ 10:50 pm

Does anyone have a map of Arturia BeatStep?
---
Posté Tue 10 Oct 17 @ 5:50 am