Forum: Wishes and new features
Sujet Native features similar to TellyVisuals and TellyMedia within Virtual DJ
I would love to see the feature set we had with TellyMedia and TellyVisuals including social media and messaging (Twitter, Pushbullet etc.) integration with layout editing similar in TV and the sample bank which allowed stills aswell as video and some more playback options, webcam integration and manipulation, carousel slideshow including video file playback with quick select folders, mappable alpha per source, to name a few features, were exceptional and together offered a huge amount of flexibility and it was a perfect solution as an audio only visualisation source. Now that the plugin is no longer being developed and there is not a stable 64bit version, it would be great to see these features as part of the standard build of Virtual DJ. I know a lot can be achieved by using the likes of OBS but it falls quite short of what was previously available and it would be far better to be able to have everything available from one stable and harmonised piece of software. A lot of questions all over the community forums were answered with 'just use TellyMedia/TellyVisuals' but sadly this solution has as good as gone. I used this from the early days of it being a Pangolin plugin right through Don's development
---
Posté Fri 07 Jan 22 @ 1:33 pm
There's always a risk using 3rd party plugins.
---
Posté Fri 07 Jan 22 @ 1:56 pm
Vjleeduncan, thank you for being a long time user. I have been working for years on things to replace TellyMedia and TellyVisuals and not just going to walk away from it. I have a lot done and a lot more to do. I have also had a lot on my plate for the last several months and needed a break from computers. Last time it took such a break was about 15 years ago. TellyVisuals and TellyMedia will go away. For me they have been tools to build something better. A lot of what was in TellyVisuals and TellyMedia is now handed in my AV library. An app just needs to call it up. Panels are now super charged and can contain anything including other panels. Panels, video, images, text, etc. can fly around and do some crazy things. Not crazy but eye catching.

It will be a lot of work getting all this into an app etc. The app will be a stand alone app outside of VDJ with links to VDJ underneath the hood. VDJ is not a place for a complex app/plugin. I see a lightweight interface that lives in VDJ that controls TellyVisuals. The name is the same for the new stuff but goes way beyond. It will do a whole lot more than the current TV and TM combined.

All sounds good but can we get there? I have no doubt that this can take us to a new level. I had no doubt about that years ago when me and some of the DJs were talking about the way it should be. All of it was mostly in my mind for many years. I had to work to eat. I had to maintain TM and TV because this new thing was going to take a long time for one person. About a year and half ago, I finally had enough in place to see this for real rather than just in my mind. It was better than I had imagined it to be. I spent a few weeks doing odd ball stuff and it was fun. Panels are the basic building block for everything. A panel is a light weight structure that can have a few adornments and contain things. They manage the things they contain and can receive programs that make them act autonomously.

To answer I am still developing the new TellyVisuals. After my rest I should be charged up for the next t0 years. I said a few times I would work on this until I died. I have no idea when it will be complete but I am going to try to piecemeal it out. I need a new website and forum. Something someone else can do. If you need to know something send me an email rather than assuming information from the rumor mill is true.

Panels used for application controls, slideshows, and much more. This is a simple app I was using for testing. Upper left I reserved for a camera. You can have many camera panels. Upper right shows listbox made of panels and being used to display running applications. Clicking in the listbox will capture that apps window and display it. The 2 lower lefts sections are being used for slideshows. Panels have built in logic to do slide shows. No limits other than resource limits. I have some videos I can put up later. Here's some more images using NTV. Scroll toward bottom.
https://www.virtualdj.com/forums/233900/General_Discussion/Best_way_to_stream_split_screen_music_video_dj_mixes_and_live_camera_shots_.html?page=1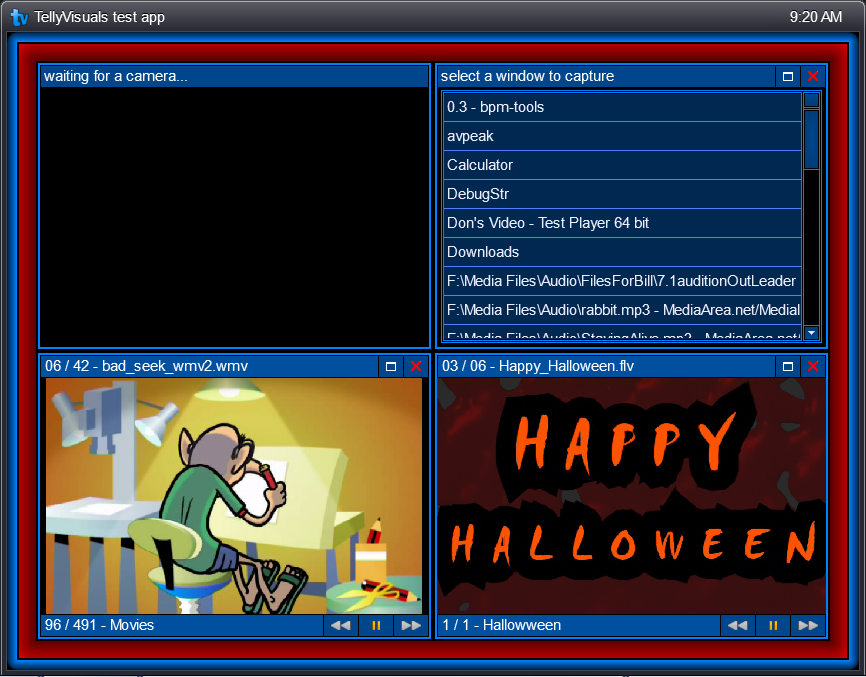 Capturing the TV test app in the test app and capture panel maximized.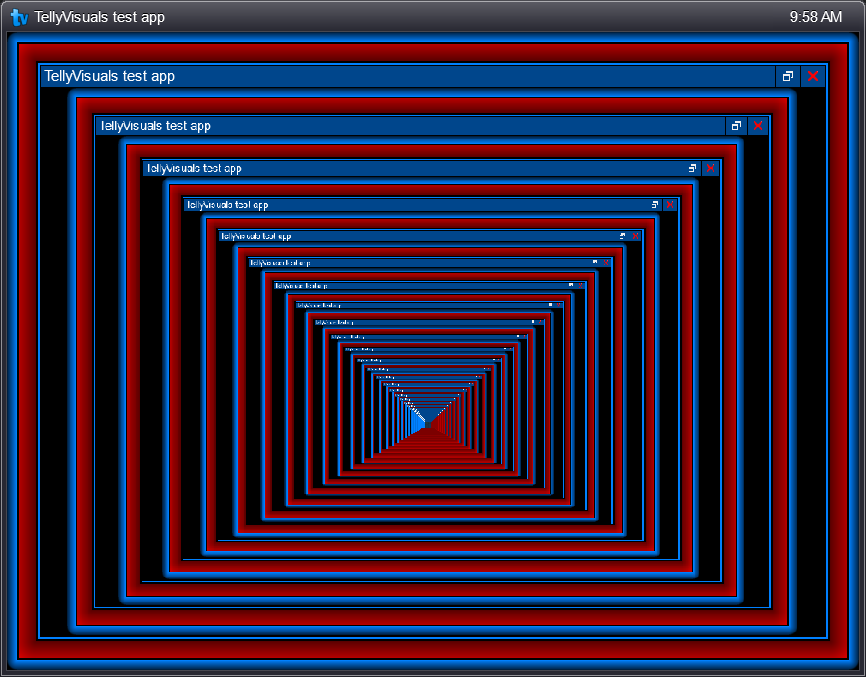 ---
Posté Thu 17 Feb 22 @ 2:54 pm

A sample video showing various things going on while playing pong:




A sign post demo:




Slot machine with images:


---
Posté Thu 17 Feb 22 @ 6:23 pm