Forum: Wishes and new features
Sujet Want Pro layout with 4 channels, 4 jog wheel displays & 4 full size waveforms
My ASUS ZenBook has dual 4k screens. I'd like to have at the top of the screen 4 waveforms, each the same size as the 2 channel waveforms in the pro layout with waveform display set to colors. I'd like to have 4 decks, but I want all 4 of them to have their own jog wheel with a display in each one displaying the information that I can display in the PRO layout. Because those things would take up more screen space, I'd like to have the folders/song lists moved to my secondary screen. I'd like to be able to send a full-size video to my projector via HDMI while my secondary screen is enabled. Because my secondary screen is short & wide, and apparently VirtualDJ automatically sends the video to my secondary screen, formatting it for that screen, it then sends that scaled down video to my projector, leaving large gaps at the top & bottom of the screen, and projecting a video that's about 1/3 to 1/2 as tall as the video that's projected when my secondary screen is disabled.
My primary controller is a Pioneer DDJ400, but I also have an American Audio VMS4. I've found that it's possible to connect both controllers to my laptop at the same time, but when I assign each channel to its own deck, the volume controls don't control the channels that they should, and only control 3 of the channels.
---
Posté Fri 13 Jan 23 @ 10:14 pm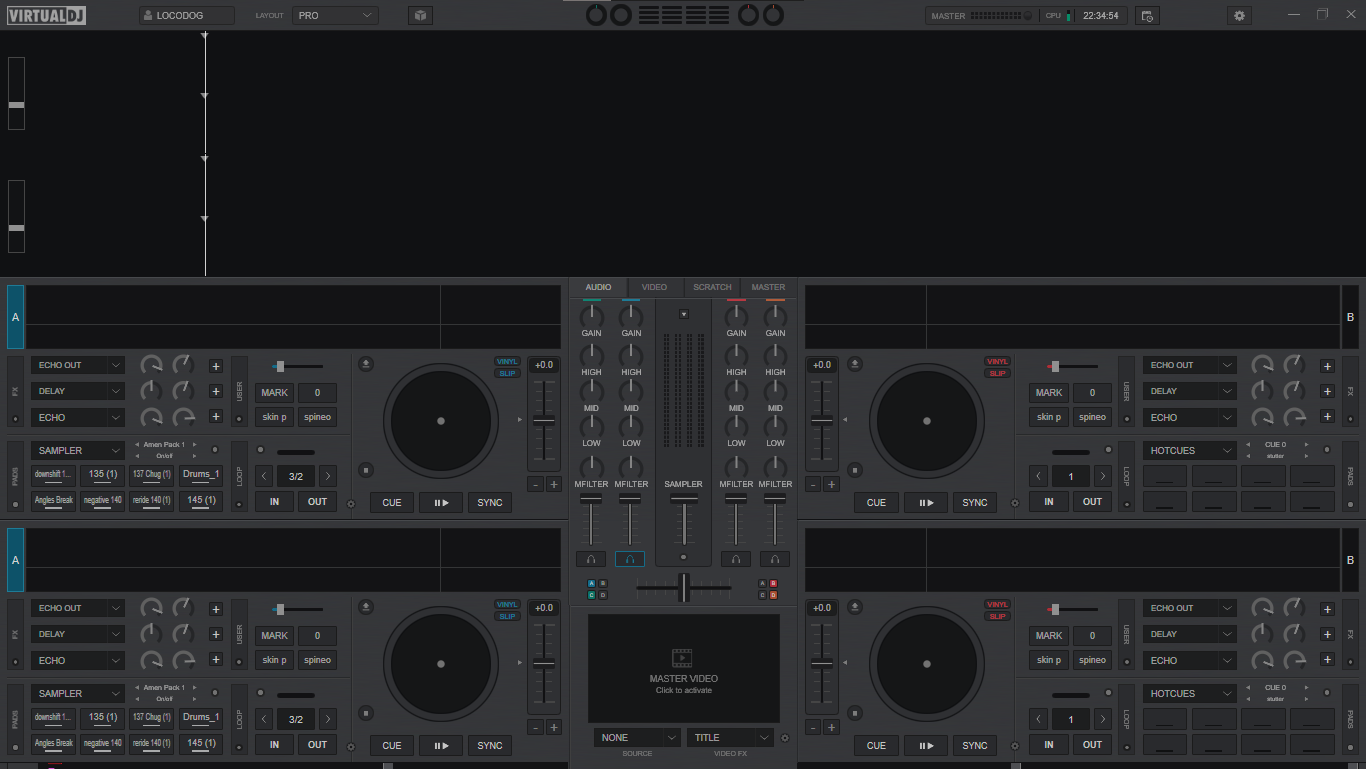 you want that? that's pretty much all of the 1080 you have in height.
---
Posté Fri 13 Jan 23 @ 10:43 pm
Wow, that's exactly what I've been looking for for some time.
May I ask you to explain to me / us exactly how this is realized, unfortunately I have no idea at all about the skins or their creation.
I intended to have the players on an external screen or possibly on an iPad as a status display directly in front of the controller, and the browser should remain on the Mac book that stands next to it.

Is this feasible with this?


Wow, das ist genau das, was ich schon einige Zeit suche.
Dürfte ich darum bitten mir / uns zu erklären, wie das genau realisiert wird, ich habe leider überhaupt keine Ahnung von den Skins oder deren Erstellung.
Ich hatte vor, die Player auf einem externen Bildschirm oder möglicherweise auf einem iPad als Statusdisplay direkt vor dem Controller zu haben, und der Browser sollte auf dem Mac-Book verbleiben, das daneben steht.
Ist das hiermit realisierbar?
---
Posté Sat 14 Jan 23 @ 12:15 pm
The skin [picture is just a m$paint edit] would take a bit of time, if you don't know anything on skins it would come with a learning cliff.
I could make this skin for beer tokens.

Mac ipad, you asked the wrong question to the wrong person on the wrong day, I don't know if it will work, I don't think about mac problems any more.
---
Posté Sat 14 Jan 23 @ 1:13 pm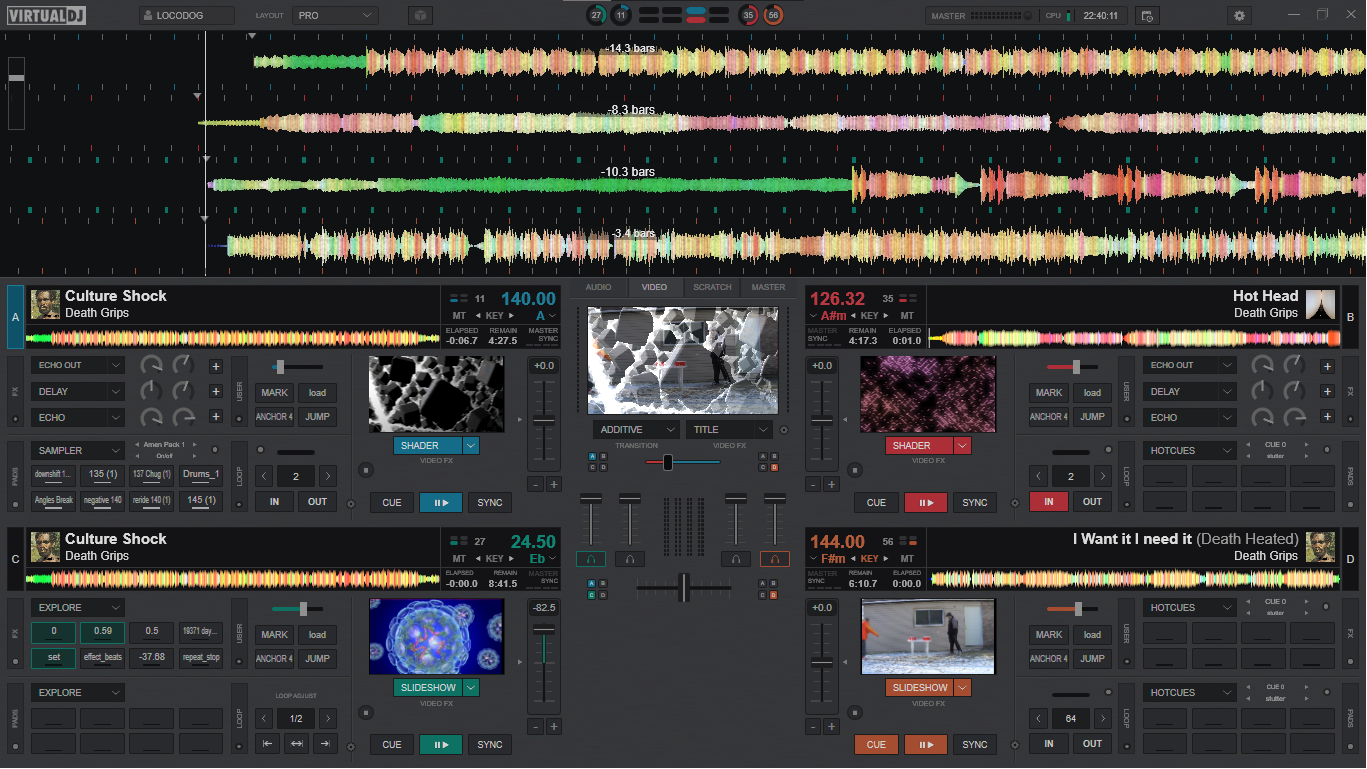 A real screengrabs this time, still have issues, still have to clear out all the stuff that could break stuff, have to add things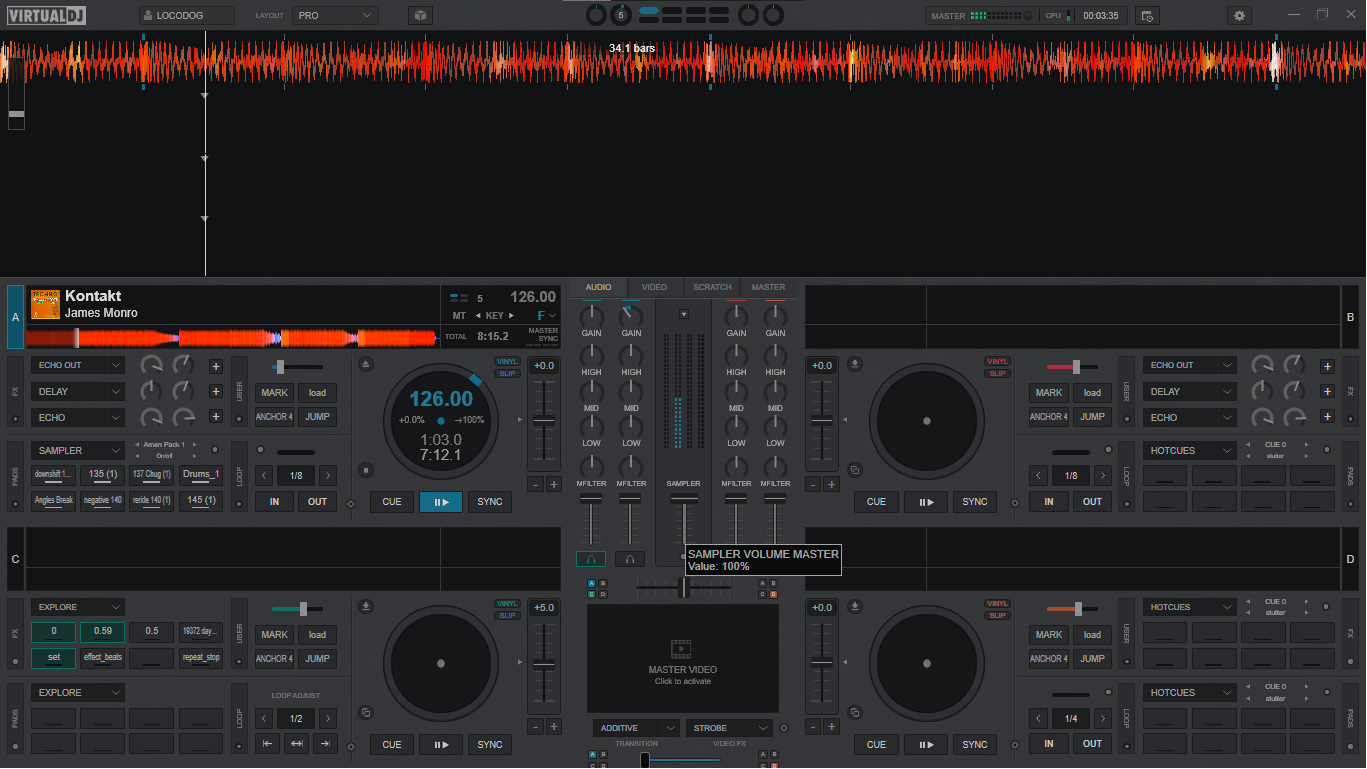 It's a bit tight at the bottom there
---
Posté Sun 15 Jan 23 @ 12:08 am
Sorry for the late reply.

That looks really good, that's exactly how I imagined it.

I've tried the Vance GT skin before, it came very close to the matter. Unfortunately, the browser cannot be removed or disconnected.
The skin can be based on the original skins as essential and / or pro.

How much can I estimate the costs?


Entschuldigung für die späte Antwort.
Das sieht richtig richtig gut aus, genau so habe ich mir das vorgestellt.
Ich habe schon mal den Skin Vance GT probiert das kam der Sache schon sehr nahe. Leider lässt sich der Browser nicht entfernen oder abkoppeln.
Der Skin kann sehr gerne auf den original Skins basieren als essential und / oder Pro.
Wie hoch darf ich denn die Kosten einschätzen?
---
Posté Mon 23 Jan 23 @ 4:13 pm
Skin edited, check your private messages.
---
Posté Tue 24 Jan 23 @ 4:32 am