Forum: General Discussion


About VirtualDJ and DJing in general

---
If you need extended support, contact our Support Team.
Forum Guidelines  (*) The moderators hold the rights to move or modify posts in order to keep the discussions clear or to facilitate the search.
Sujet Akai AMX and AFX for Serato DJ - Page: 1

Nice little setup right there.
---
Posté Mon 04 Aug 14 @ 12:20 pm

So the Numark NS7II got the touch capacitive capabilities from Akai?
---
Posté Tue 05 Aug 14 @ 12:30 am

Numark and AKAI are both under the same parent company; inMusic.
---
Posté Tue 05 Aug 14 @ 5:10 am

I want that AFX badly for my TCV set up! I hope a mapping comes out for VDJ soon. $200 is not a bad price at all for it. I'm sure within a few months, the price will drop too, and you could probably get it for around $150. Excellent price for an FX unit!
---
Posté Tue 05 Aug 14 @ 7:08 am

these do look very cool! cant wait to try em at store!
---
Posté Sat 20 Sep 14 @ 6:47 pm

can I use my AKAI AMX with my virtual dj or numark cue 7? I am not happy with serato cause all the beatgrids and love numark cue. Any help will be great and thank you.
---
Posté Tue 02 Dec 14 @ 6:39 am

AMX and AFX support will come very soon. However, not for VirtualDj 7
---
Posté Tue 02 Dec 14 @ 10:43 am

I hope, that developers of VDJ can help me for mapping that toy to VDJ 7. Sorry, but VDJ8 is not ready to work yet.
I almost ended my mapping, anybody can dl it at kayjay.info/files/amx.zip, but it's not good to live without leds.
If I can't map my AMX to VDJ, probably i would follow the advice of AKAI stuff and switch to Serato.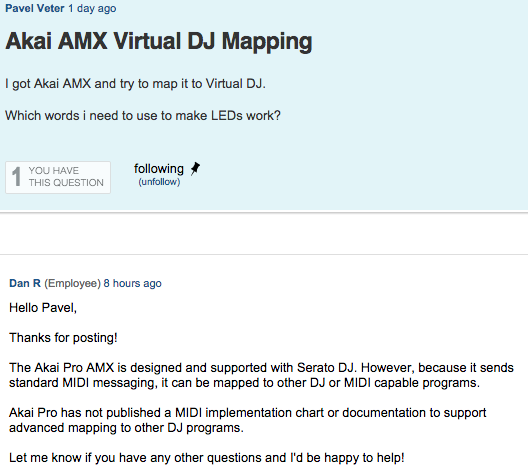 ---
Posté Wed 03 Dec 14 @ 6:59 pm

All my problems with VDJ 8 because the old skin. VDJ 8 is awesome.
---
Posté Thu 04 Dec 14 @ 3:45 pm

theyre working on maps as we speak. i ordered this unit as well.
---
Posté Sun 07 Dec 14 @ 5:49 pm

Anyone has issues with the AKAI AMX sound card on Windows ? In our test computers, if the AKAI driver is installed, VirtualDJ (7 or 8) cant close properly (freezes), regardless if the sound card of the AMX is selected in the AUdio configuration or not. Its OK if you unplug the unit prior closing. Anyone has experienced this ?


---
Posté Mon 08 Dec 14 @ 2:05 am

Yes Mpampi i have this exactly issue in my boocamp partition with VirtualDJ 8.
In the same partition Serato DJ and Akai AMX haven't any issue.
---
Posté Mon 08 Dec 14 @ 9:58 am

Ok, we found a workaround and the AMX sound card can be used properly now. The unit (along with the AFX) will be officially supported by the end of the week.
---
Posté Tue 09 Dec 14 @ 11:00 am

wow thats great news! cant wait!!!! Big thanks to Atomix!!!!
---
Posté Tue 09 Dec 14 @ 4:10 pm
---
Posté Wed 10 Dec 14 @ 10:31 am

Its not right for you to pay for VDJ 7 but in order to get Akai Amx working fully you have to spend more money to get 8 I wonder how many switch to Serato over issues like this. Is there anyone making a mapper for this led included
---
Posté Wed 21 Dec 16 @ 6:06 pm

I'm sorry but what you just said is ...........let's just say totally incorrect. Please read my next statement very carefully, so there is no misunderstanding. If you have to, read it again. If anyone paid for version 7 of Virtual DJ, they automatically get version 8 free of charge. I hope that clears that up for you. As for how many have switched to another software or not, is totally irrelevant to me, and I don't know how it would affect you either. If you wish to complain about anything, please use facts, thank you.
---
Posté Wed 21 Dec 16 @ 10:48 pm

Hi, I'm looking to get one akai amx, has a backup/portable mixer adding a technics sl-dz mk2 for scratching.
I see that it has problems in serato dj, touch eqs cutting sound and channels left/right getting cut off...
does the mixer perform good on vdj8?
thank you
---
Posté Fri 06 Jan 17 @ 12:51 am

vdj_pARtybOy wrote :

Hi, I'm looking to get one akai amx, has a backup/portable mixer adding a technics sl-dz mk2 for scratching.
I see that it has problems in serato dj, touch eqs cutting sound and channels left/right getting cut off...
does the mixer perform good on vdj8?
thank you



I would also like know, cutting sound during performance using vdj8 (twice).
-thank you
---
Posté Sat 07 Oct 17 @ 5:41 pm